THOSE OF YOU THAT HAVE NOT COMPLETED THE SPAG.COM TEST THAT HAS BEEN SET, MUST COMPLETE THAT BEFORE MOVING ON TO THE SECOND TASK!
I would like to start this blog off by congratulating the following people for completing a test set for you on the 25th April! Great Job guys I am proud!
Abdulwahab
Ahmed
Amelia
Anya
Ayesha
Azan
Elena
Hadisa
Hamzah N
HAYA
Humaira
Humza H
Inaaya
Jamie
Jessica
Khadijah
Kinzah
Laraib T
Leona D
Mahamad Y
I would then like to say that I am disappointed that only 36% of year 6 have completed the '2019 SATs – KS2' test set on SPAG.com – if your name is not above, please complete the test and comment below telling us this.
Task 2 – Determiner revision!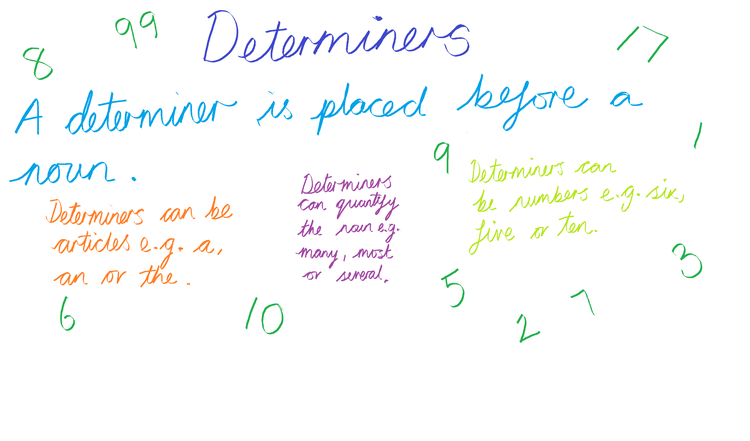 Watch the animation, then listen to the determiner song and finally complete the tasks below. You must complete 2 (i.e Bronze and silver / silver and gold)
Bronze
Identify the determiners in the sentences below.
1. Several large geese were seen crossing the road.
2. Many captive whales have a floppy dorsal fin.
3. The teachers hold the weekly meeting in the staffroom.
4. I saw eleven red cars this morning.
5. Peter made a birthday card.
6. I had a chocolate cake.
7. The children made too much noise.
8. There were lots bats in the cave.
Silver
Choose the correct determiner to complete the sentence.
1. I do not have some/any money.
2. Would you like some/any tea?
3. Any/Some cats don't have tails.
4. Any/Some dogs don't like water.
5. I went to get some/any food.
6. Do you have some/any sugar?
7. Why are some/any children scared of the dark?
8. My mother doesn't like some/any sugar in her tea.
Gold
Think of determiners to complete the sentences below.
1. I went to _________farm.
2. I saw _________ducks.
3. I rode on _________ponies.
4. I fed _________ducks.
5. _________geese chased me.
6. I prepared _________picnic by _________lake.
7. _________of _________lunch got blown into _________lake.
8. _________fisherman watched and laughed.