Hi everyone!
It's such fantastic news that England have made the Euro Finals! It is a historical moment for the team and country, as we have not reached a final since 1966 (that's 55 years ago!).
But did you know, that England's women's team made the finals in both 1984 and 2009?
I wanted to share with you a truly inspirational role model. This is Nadia Nadim.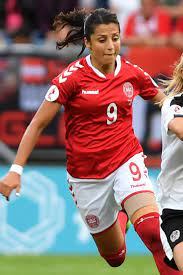 While Nadia does not play for England (she plays for Denmark), her journey to success is remarkable. 
I was born 2nd of January 1988 in Herat Afghanistan where I was raised by my mother and father, together with my four sisters.

When I was young, I got the heartbreaking news that the talibans had executed my father. After that, my family decided to escape Afghanistan, as it was not a safe place for a family of 6 women's.

We planned to escape to London, where we had a few relatives, and with forged passports we came to Italy thru Pakistan. From there, me and my entire family went on a truck, thinking we where heading towards London. After a few days, we all turfed of the truck, expecting to see Big Ben. We did not. All we saw was trees. We asked a passer-by and found out that the bus had dropped us in Denmark. A small country in the northern parts of Europe, that I these days refer to as home.

I began my professional career playing for B52 in Aalborg, and then came to represent Team Viborg, IK Skovbakken and Fortuna Hjørring. With Fortuna I made my Champions League debut, in September 2012, scoring both goals when we beat Scottish champions Glasgow City 2-1. 

I made my debut for the Danish national team in Algarve Cup 2009, and has since then proudly represented my country 73 times, earning 1x UEFA Euro's bronze medal, and one UEFA Euro's silver medal, after a though loss against the hosting nation, Holland in 2017.

Except playing football, Im also a medical student at Aarhus University, and quite soon my title will become Dr Nadim. I speak 9 languages fluently, and Im constant in the process of taking on new challenges.

-"I have one goal in life, I want to be the best, in everything I do,"

Taken from http://nadianadim.com/
Nadia is proof that you can have it all! Not only is she a brilliant footballer, but soon to be a medical doctor. This shows what hard work and determination can achieve!
What are your hopes and dreams for your future career?

Would you like to pursue a sport either professionally, or as a hobby?

What would you like to ask Nadia Nadim?