Monday, I woke up, had my regular breakfast and rushed eagerly to school. We all started the day as usual, got our stationary out, completed our challenges etc etc. Whilst waiting for the English date and title we overheard Mrs Sharma and Mrs Ahmed bickering about some random box. In Six Red, you learn one thing…Mrs Sharma doesn't like clutter and Mrs Ahmed doesn't like changing plans.
However, with it being the first day every child in Six Red was actually in school we persuaded Mrs Ahmed to let us open the parcel. Marley and Esha opened the parcel and revealed a very large scroll and pouches of counters and dice. We noticed the scroll was a map. Perfect. "Please Mrs Ahmed can we play the game!" "We can link it to our learning, please please!".
Of course, our wonderful teacher chose to listen to us! We unfurled the map on the table and all joined in! Arina, Afsana and Ilyas read the story linked to the game. Steven and others read the instructions for the game and we began. Rolling the dice in pairs. Each time scoring worse than the turn before! In the end, we lost the game!
To be fair, we passed the game on to the other classes (in hope they would win). We completed learning linked to the game. We read the stories, learnt about the animals and illustrations from the map! Below are examples of our learning!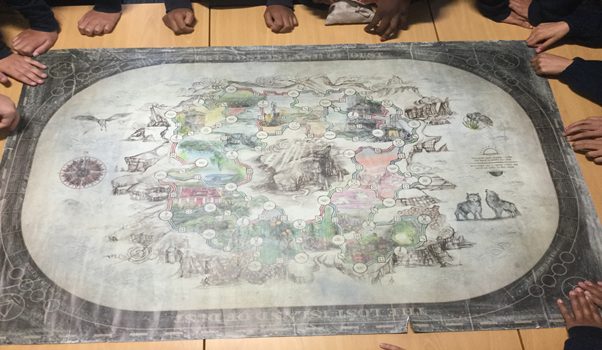 What did you infer from the game?
Six Blue and Six White- what was your experience of the day?