As it is European Day tomorrow, Year 5 will have a creative day learning all about Germany!
This is the flag of Germany: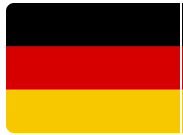 For tomorrow, we would like the Year 5 children to wear clothes that are the same colour as the Germany flag (Black, Red or Yellow).
You are not expected to buy anything new. Please look in your wardrobe and wear at least one of the German flag colours if possible please.
Challenge: Can you incorporate all three colours into your outfit tomorrow? (Black, Red and yellow)
Year 5- What would you like to learn about Germany?