Week 2 Homework checklist:
*Daily reading and updating my reading journal.
*Practising my spellings and putting these into sentences.
*Completing one task from the homework overview.
*Completing homework set on 'Mathletics'
(Rounding, numbers to digits and place value to a million)
*Completing homework set on 'SPaG.com' (Terminology A)
*Comment on the Norway blog
Homework overview
(Please select ONE task to complete from the WEEK TWO column)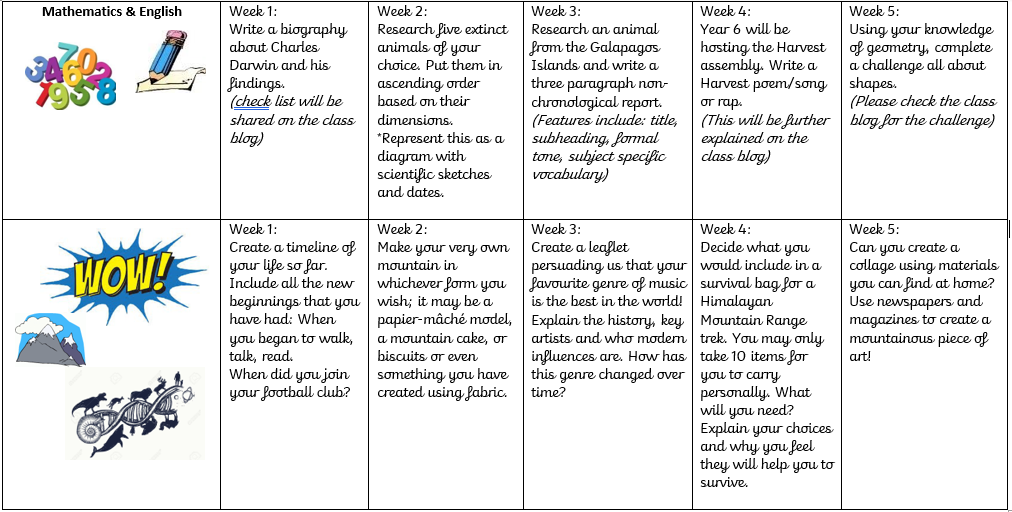 Y6 Spelling practise
(This weeks rules are: Suffix 'fer' )
Check out the BBC bitesize video sharing tips and tricks on how to add to the suffix 'fer' to words.
General notices:
*All children in for 8.30AM each morning
*Healthy snack for break time
*Swimming kits- Monday
*P.E. kits- Tuesday
*Homework deadline- Wednesday
Homework and reading journals MUST BE shared and approved by parents before coming to school.
Any incomplete homework or poor quality homework will be sent back home.