Hi guys! This is the work set for those children who have been told to isolate in year 6 from home!
I'm sorry to hear that you will be absent from school. However, in order to make sure your absence does not affect your learning and progress as much as it might, we have put together a selection of resources to be completed at home.
First, there is your weekly homework. All work completed from the overview below can be submitted to your class sharepoint that has been set up on the homework blog by your class teacher.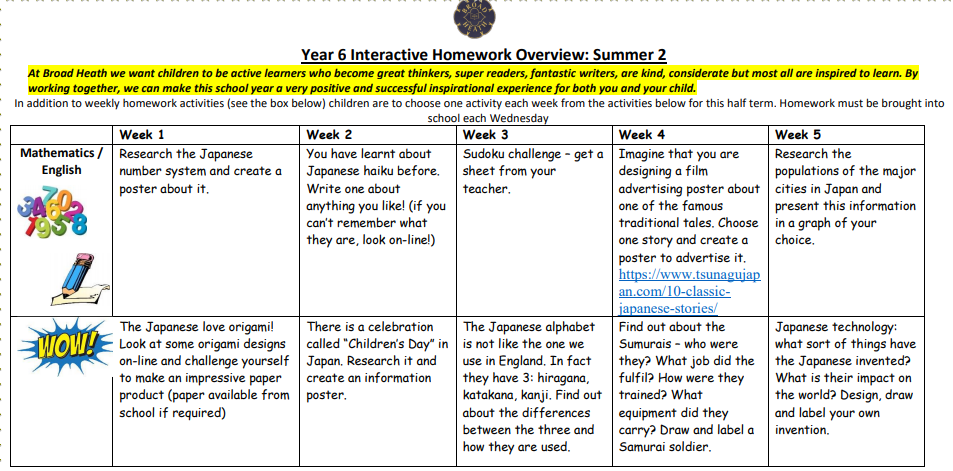 We also have the Reading and Maths challenges on our website to be completed. This can be found here: https://www.broadheath.coventry.sch.uk/challenges/
We'd also like you to log in to Times Table Rockstars to continue to practise your times tables and linked number facts, the link for which is here: https://play.ttrockstars.com/auth/school/student/61198
We also expect regular reading to be happening, which should be recorded in your Reading Journal. You also need to practise your Year 5 and 6 spellings, which are posted on your class blog: https://www.broadheath.coventry.sch.uk/blogs-page/ When practising your spellings, also use this as an opportunity to practise your handwriting.
You have been set a task today which reflects our SPORTS DAY learning!
What values do you need to show when taking part in Sports Day with your team? Explain how you know.
Design your own Sports Day medal that you would present to someone who wins.
Can you create a Sports Day home fitness video? Include up to 5 key exercises or stretches that will help you to achieve on this day.
Complete the puzzles below.